yahoo~~ long time no see...
so I decided to write here again...

Hmmm... actually I just see the list of upcoming fall drama, and this season there are more drama that catch my eyes unlike the previous season...
now the result is I get confuse which one I should watch first...kkkk...
after looking at the list again I guess there will be around 5 drama that will be on my top list I must download (hope someone will sub them all)
Okay the first one will be this drama



yup this drama have two Johnny's artist! the lead of course our Do-kun and there will be Fujii from Johnny's west as the supporting charcter too. This drama will be the reunion drama between Do-kun and Kuroshima Yuina that play together in Gomen ne Sheisun. If you don't know who she is, Yuina play as Do-kun student the president from the girl's high school. In brief Do-kun is samurai who will be doing time travel to the future and this force him to become a teacher in high school! Do-kun as teacher yass I like to watch it again after Gomen ne sheisun I really think teacher role really fit him so yeah I can't wait for this! and other thing is Kamiki is also joining this drama! yahoo~ more thing to get excited for. Samurai Sensei will start airing 23th October 2015 at TV Asahi.


the second will be this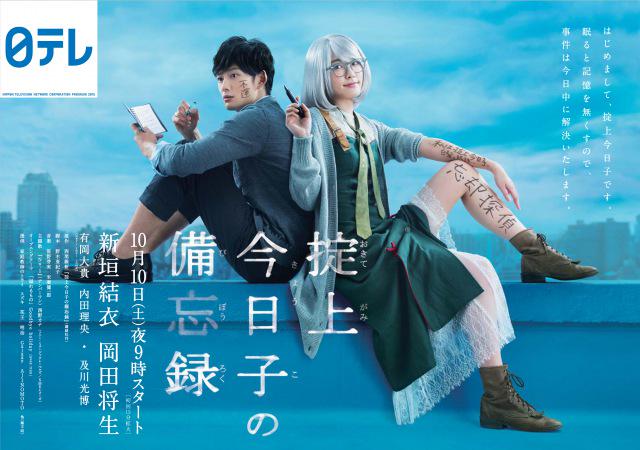 Okitegami Kyoko no Biboroku is the upcoming fall drama from Aragaki Yui and Okada Masaki. Gaki will be playing as a detective that her memories will be reset after one day

and one thing she never forget is writing everything in her body. This drama is based on light novel Boukyaku Tantei. Yes, I am a fan of all detective plot from japanese drama whether it is intense one or comedy one. Seems like this one is will be the light one. I don't really have many info about this drama unfotunately >,< but this drama already begin their filming. so yeah I can't wait!


Okitegami Kyoko no Biboroku will start airing 10th October 2015 at NTV.



the third one will be this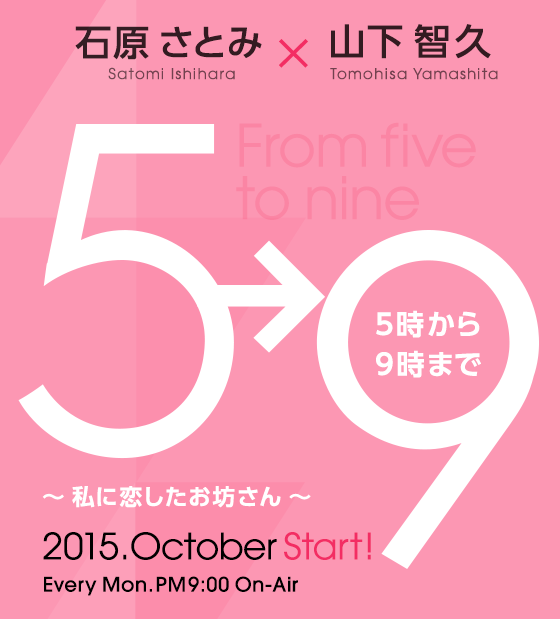 5-ji Kara 9-ji Made is Isihara Satomi and Yamapi fall drama!! Yamapi will be playing as a monk!! (omg if the monk is ikemen like him hmm, the temple is going to be popular..kkk) and Isihara satomi will be playing as an english teacher. This drama is based on Manga with the same title.
5-ji Kara 9-ji Made will start airing 12th October 2015 at Fuji TV


The fourth one will be this



Kounodori is this fall drama from Ayano Go~ okay lately I drawn to his charm after watching S- Saigo no Keikan and Ouroboros. He did a perfect job in those drama and I really can't wait seeing Ayano as a Doctor (Ob-gyn doctor to be exact). This drama will be a story around the hospital and ob-gyn department. I always like human drama but in the same time I am weak with this kind of drama...kkk


Kounodori will start airing 16th October 2015 at TBS

the last but not least

Isan Souzoku is fall drama from Osamu Mukai and Eikura Nana. Well actually I don't know this drama is on the list until I see it..lol..
This drama will be your typical family drama with all the complexity of the family member and this drama focus on battle of inheritance between two family. Osamu will be playing as a rich boy who fall in love with Eikura but the sosial status is far too different. well, I usually not really into this kind of drama but since it's osamu and Eikura I can't help but being curious.
Isan Souzoku will start airing 22nd October 2015 at TV Asahi.

well that's I think drama that I will keep an eye for now, maybe the list will be expand too if I found another good drama.
hmm, from above list I think what I am waiting for the most will be Samurai Sensei.
anyway, how about anyone. any reccomendation for other drama beside what I list above? just comment away~